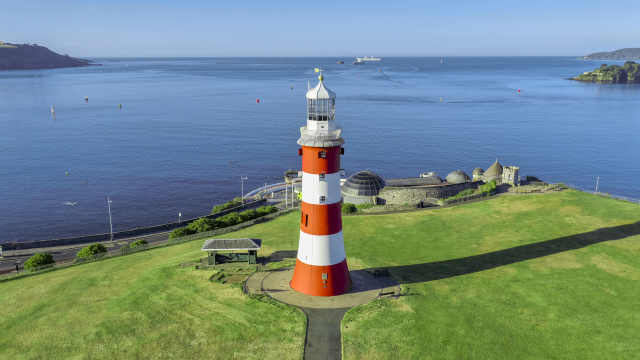 Smeaton's Tower on Plymouth Hoe - by Jay Stone
Drone image of Plymouth Hoe, looking out over Plymouth Sound
Plymouth
Rain or shine, Plymouth, Britain's Ocean City is home to breath-taking views, plenty to see and do and lots of fresh, sea air. There's nowhere quite like it! Explore the waterfront, shop 'til you drop or experience world-class events. The waterfront location plays centre stage in the city's fascinating history, from sea captain Sir Francis Drake setting off to circumnavigate the world, to the sailing of the Mayflower in 1620.
GETTING HERE
Plymouth is 230 miles southwest of London, on the border of Devon and Cornwall, in southwest England. From London, Plymouth is 3 hours 15 mins by rail or 3 hours 50 mins by road.
Flights from London City to Exeter Airport (47 miles from Plymouth) take 1 hour 10 mins. Flights from London Gatwick to Newquay take 1 hour 10 mins.
read more