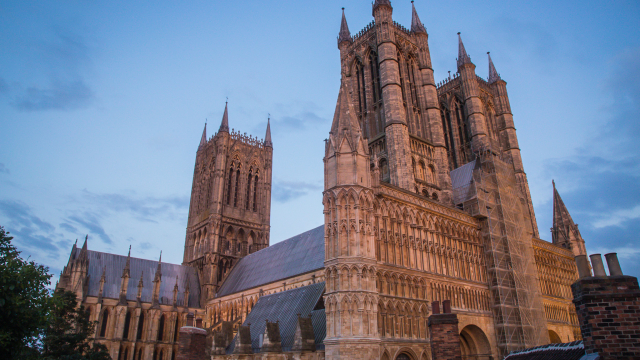 Lincoln Cathedral at dusk
Lincolnshire
Be inspired by miles of stunning coastline, natural beauty in the countryside, and the Cathedral City of Lincoln.
Take time and discover the history and heritage of Lincoln city and countryside.
Over 1,000 years of history lives on at Lincoln Castle, home to the 1215 Magna Carta and 1217 Charter of the Forest. Walk in the footsteps of past kings along the 360° wall walk through castle towers, and explore the Victorian prison.
Lincoln Cathedral boasts views like no other over the Lincolnshire countryside. Stand in awe in the cathedral nave and reflect whilst listening to the majestic sounds of the Cathedral Choir.
The remains of Lindum Colonia, the Roman City of Lincoln founded in the first century AD, can still be seen throughout the city by following the Roman Trail.
The Mayflower Pilgrims started their journey in Lincolnshire and exploring Gainsborough Old Hall can help you find out more. Plus, don't miss the Elizabethan Doddington Hall - still in the hands of the same family from down the generations.
GETTING HERE
Lincolnshire is approximately 120 miles north of London, in the East Midlands. From London, Lincoln is 2 hours by rail or 2 hours 50 mins by road.
read more